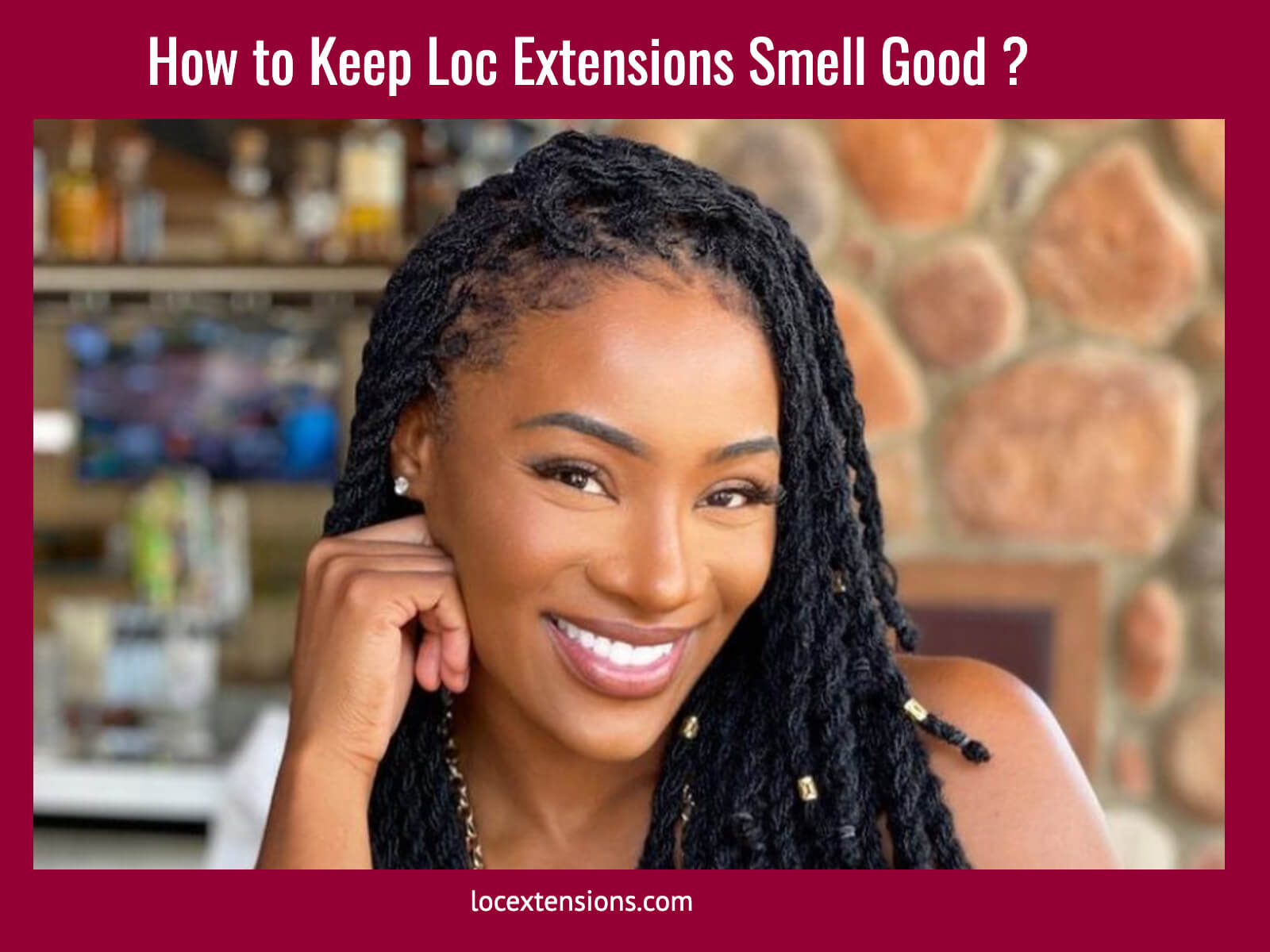 Human hair loc extensions need moisturization, washing, and cleaning to look and smell good. sometimes the loc extensions get stinky with time if not washed or dried on time. In addition, there can be more reasons for stinky loc extensions, such as a fungal infection, product or dirt build-up, and more.
In this blog, we will share how to keep the loc extensions smelling good for a long and much more. 
1: Clean brush
Hair combining is one of the beneficial activities that help your hair dust free. In addition, using any hair accessories such as hair bands, headbands, and ribbons when applied on the locs for a long leave an unpleasant smell. Also, using an uncleaned hairbrush in hair adds to the smell and makes them stinky. So, it is suggested to use a clean hairbrush or metal rat comb and wash it after every use. Moreover, spray some fragrant essential oil to ensure that your locs smell good after combing. 
2: Use a dry shampoo
With the loc extensions, washing them frequently is quite a challenge. Frequent hair washing unravels the locs and can result in fungal infection. Moreover, it ends with spending some extra bucks fixing them with twisting sessions and treating the skin infection.
Washing your locs every other day is not suggested as it has many side effects. So, if you are a person who is very concerned about how to keep loc extensions clean and fresh, you must look for other alternatives. For instance, dry shampoo is quite helpful in this regard. Spraying a high-quality dry shampoo on a specific area makes them feel fresh and smell good. In addition, it increases the overall hair volume and removes scalp oil. Hence, it is a good option to use on the human loc extensions in the time of urgency. So, choose a dry shampoo with a good fragrance and keep up with your locs journey. 
3: Using essential oils
The locs smell bad when excessive sweating or the hair doesn't dry completely. So, add essential oils to your locs moisturization game to the next level. Choose any essential oil of your favorite ingredients with a good smell. For example, lavender oil, tea tree oil, coconut oil, and many others have a sweet smell that is neither too pungent nor too mild. The smell in the essential oil will mask all other smells from your locs. 
4: White vinegar/apple cider vinegar soaking treatment
In some individuals, the thick locs take some extra time to dry. The locs with moisture are prone to get fungal infections. A fungus or mold infection can result in a prolonged bad smell. If you suspect the same with your locs, do you know how to get rid of mold in dreads? Try soaking the loc extensions in white vinegar or apple cider vinegar. The vinegar kills the mold and masks the smell with its aromatic fragrance.
Try the soaking treatment with distilled water and white vinegar, 1 part each. Soak your dreads in the water completely until it is absorbed well. Leave the locs for 15 minutes and then rinse well with plain. Let your locs dry well. If your locs still smell bad, perform this activity again after a day or two. Perform this until the smell subsides completely. 
Likewise, apple cider vinegar is also found effective for some individuals to subside the smell in loc extensions. One more thing about these treatments is that they are easy to perform at home with the ingredients available in your kitchen. You will only have to spend a hefty amount on locs treatment for your issue. So, get one of the recommended treatments and style your loc extensions in public without fear of stinking. 
5: Invest in hair perfume
Every individual face different challenge during the locs journey. But, not washing the locs for a few days can be very challenging for the overall health of the locs. If you struggle with the locs smell, the experts suggest investing in hair perfumes. They are sacrificially made for this purpose. So, make sure you get your hands on hair perfume made with organic ingredients. 
6: Fragrant shampoo and conditioner
Some shampoos and condoners leave a scent longer than ordinary ones. So, do some part in the research for a conditioner and shampoo that is not only organic but also has a good essence that stays in your locs. Then, wash the loc extensions with the scented shampoo and conditioner to keep them smelling good at work or with friends. 
7: Frequent change of pillowcase
Smelly locs can be due to an overlooked reason: no change of pillowcases. If you have a habit of washing the locs before bedtime, they can easily get smelly in the morning. So, to keep your loc extensions smell-free, don't forget to change the pillowcases. Moreover, make sure the sheets and pillowcases are clean and smell good. So, you must change the sheets and pillowcases every day to avoid getting mold in your dreads.
8: Keep locs dry
Only some people with extensions will tell you this secret tip, but know that 90% of the issues for loc extensions arise from increased moisture levels. The fungus formation, stinking, and itchiness are all linked to sweating or moisture. So, if your locs stay damp for long, they not only feel heavy on the shoulder but also cause fungus. 
So, make sure your locs are dry most of the time. Do not use heat on the locs. Dry the locs after showering in the sunlight. Avoid such activities that can result in excessive scalp sweating, which is another cause of smell in the loc extension. Wash the locs on a full sunny day so that they dry easily. Moreover, use something other than heat for drying the locs as it makes them dehydrated in no time.  
Final Words:
Summing up, you will have different challenges, but following some good tips will always be in your favor. Avoid washing your loc extensions frequently. Try to keep the loc extensions dry at times by using a dry shampoo. Do not indulge in the activities in which you sweat. Use essential oils to get rid of the locs smell. Use a fragrant shampoo, conditioner, and moisturizer. Furthermore, you can also play your role and discover more about loc extensions during your journey. Don't forget to share your kind suggestions as well.